10 Must-Grow Plants for a Colorful Cut Flower Garden
Creating a cut flower garden is akin to painting a living masterpiece. A well-designed flower garden can offer you not only a beautiful vista but also a ready supply of fresh flowers for your home. At Moana Nursery, we believe that every gardener can enjoy the process of growing a stunning cut flower garden, no matter their skill level. That's why today we're excited to share our list of the ten must-grow plants for a colorful cut flower garden. Here are some of our favorite flowers for a cut flower garden in the Reno area:
1. Peonies
Renowned for their large, flamboyant blooms, peonies are a classic addition to any cut flower garden. These hardy perennials come in a variety of hues including pink, white, and red, and are known to live for decades. Be patient as they might take a few years to start blooming, but when they do, the spectacle is well worth the wait.
2. Dahlias
From giant dinner-plate-sized blooms to smaller pom-pom varieties, dahlias provide a range of colors and sizes that can't be beat. Dahlias bloom from midsummer to the first fall frost, providing beauty and splashes of color when many other flowers start to fade.
3. Lilies
Another must-grow plant, lilies bring elegance and fragrance to your cut flower garden. They are available in a rainbow of colors and their vertical growth habit adds height and drama to your garden composition.
4. Gladiolus
These summer-blooming bulbs known as the "sword lily" provide a spectacular vertical interest and come in almost any color imaginable. With their dramatic spiky blooms, gladiolus are ideal for creating eye-catching bouquets.
5. Snap Dragons
Snapdragons are not just a favorite of children, but also of gardeners who love color. Their whimsical flowers come in every shade imaginable and can bloom for weeks. They also add vertical structure and look fantastic in a vase.
6. Zinnias
Zinnias are one of the easiest annuals to grow, and they produce blooms a remarkably short time after planting. Their bright, vibrant flowers come in a variety of shapes and sizes, adding fantastic variety and color to your cut flower garden.
7. Sunflowers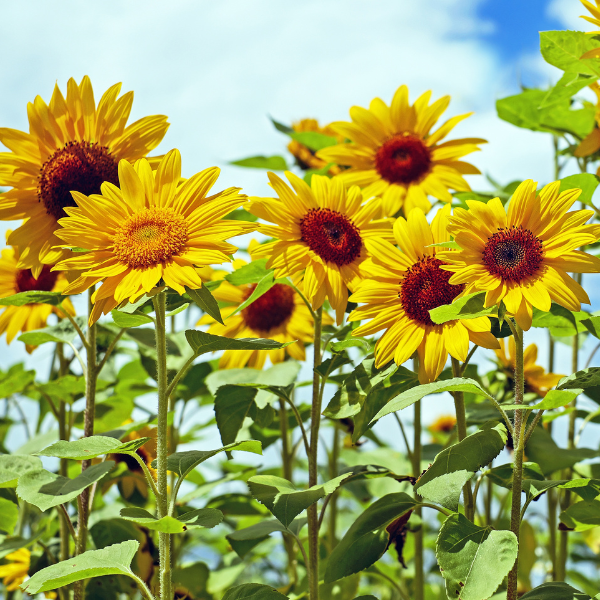 These cheery flowers are not only easy to grow but also great for adding height and structure to your garden. Sunflowers come in sizes ranging from small to towering, and their sunny yellow petals bring joy to any garden or vase.
8. Cosmos
A cottage garden favorite, Cosmos are low-maintenance and bloom abundantly. They attract pollinators and their dainty, delicate-looking blooms in white, pink, or magenta can add lightness to any floral arrangement.
9. Roses
No cut flower garden is complete without roses. These classic blooms come in a vast array of colors and varieties, ensuring that there is a rose for every garden design and personal preference.
10. Asters
These fall-blooming flowers will keep your garden looking vibrant even as summer wanes. Their starry-shaped flowers come in numerous colors and they're excellent for filling gaps in the garden or a vase.
Visit Moana Nursery In Reno & Sparks To Start Your Own Cut Fower Garden
Choosing the right plants is the first step in creating a vibrant and colorful cut flower garden. These ten plants not only bring color and variety but are also well-suited to Reno's high desert climate. By incorporating these plants into your garden, you're setting the stage for a beautiful and fruitful growing season. Visit us at Moana Nursery and our expert team will help you find these and other wonderful plant selections to suit your gardening needs.
With the right techniques and plant selections, you can create a beautiful and thriving cut flower garden that adds color and life to the desert landscape. Here at Moana Nursery, we're thrilled to guide you through the process of designing your very own cut flower garden.

As your trusted local experts at Moana Nursery, we're delighted to share a comprehensive guide on how you can successfully grow sunflowers, from seed to bloom, right here in Reno, NV.

There's nothing quite as enchanting as fresh, vibrant flowers gracing your living room, dining area, or any other space in your home. Here are some easy-to-follow tips to keep your flower arrangements fresh for an extended period.

At Moana Nursery in Reno, NV, we're passionate about helping our customers tap into the wonderful world of floral arrangements. One of the keys to creating a truly special arrangement is understanding and using seasonal flowers. But why exactly do seasonal flowers make the best arrangements? Let's explore.