Our Seasonal Color Design Experts can add a touch of any season to your landscape, yard or front porch.
The creative minds dedicated to transforming your outdoor spaces into breathtaking showcases of natural beauty, all year round. Whether you long for the vibrant hues of spring, the lush greens of summer, the fiery palette of autumn, or the serene elegance of winter, we've got you covered.
Our team specializes in crafting personalized pot designs and enchanting décor that will redefine the aesthetics of your landscape, yard, or front porch. We don't just plant flowers; we orchestrate symphonies of color that evolve with the changing seasons, ensuring that your home remains a visual masterpiece throughout the year.
With personalized pot designs and dazzling décor, we guarantee you will Fall in love with your home all over again!
Custom Containers
Containers offer a remarkable opportunity to extend the allure of your home or business into the surrounding landscape. They serve as versatile canvases that can be creatively utilized to welcome guests, commemorate the changing seasons, enhance scenic vistas, or complement specific styles and color schemes. Positioned on patios, along walkways, or within garden beds, these stunning arrangements provide a dynamic and dramatic presence as the seasons unfold.
Seasonal Displays
Our team of skilled horticulturists and designers takes great pleasure in rejuvenating your outdoor spaces with captivating seasonal arrangements. Using a variety of plants and flowers, we expertly refresh your containers and garden beds, infusing them with the vibrant colors, textures, and scents that define each time of year. Whether you prefer a burst of springtime joy, a celebration of summer's bounty, or a cozy winter wonderland, we tailor our designs to reflect your preferences and enhance the beauty of your surroundings.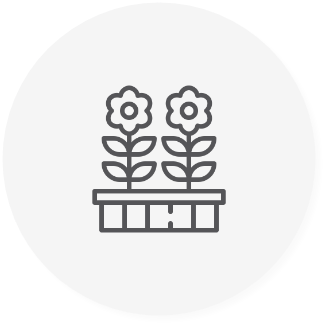 Garden Design
Our dedicated team understands the importance of defining your landscape vision and ensuring it aligns with your specific requirements. We take the time to listen attentively, discussing your goals and aspirations for your outdoor space. By understanding your location, personal tastes, and maintenance preferences, we can create a customized plan that brings your vision to life in the most practical and aesthetically pleasing way possible.
Garden Design, Installation & Maintenance
How We Improve Your Space
When it comes to seasonal color, we know how to make a statement. Our team specializes in selecting and arranging a wide array of flowers and plants that thrive in the high desert environment. From bold and vibrant hues to delicate and pastel tones, we curate stunning combinations that will captivate the senses and bring life to your outdoor spaces.
Whether you desire elegant flower beds or eye-catching containers, we tailor our designs to suit your preferences and the unique characteristics of your property. Our seasoned horticulturists and designers work closely with you to understand your vision and create personalized arrangements that reflect your style and enhance the overall aesthetic appeal of your space.
Leslie Richardson, Seasonal Gardens & Containers Coordinator
At Moana Nursery, we only choose plants that are well-suited to the high desert climate, ensuring their resilience and ability to thrive in the challenging conditions. Our expert team carefully considers factors such as sunlight exposure, water requirements, and soil composition, guaranteeing the longevity and health of your blooming containers and flower beds.
We take pride in our commitment to exceptional customer service and satisfaction. Our team of dedicated professionals is passionate about bringing your vision to life and exceeding your expectations. We strive to create a seamless experience, from the initial consultation to the installation and ongoing maintenance of your blooming containers and flower beds.
We understand that maintaining these beautiful landscapes is essential for their continuous vibrancy. Our Seasonal Color & High Desert Gardening Team provides comprehensive maintenance services to keep your outdoor spaces looking their best throughout the year. From regular watering and fertilization to pruning and pest control, we take care of all the necessary tasks, allowing you to simply enjoy the beauty of your blooming gardens.
Are you ready to enhance the beauty of your outdoor spaces with stunning seasonal color and high desert gardens? Schedule a consultation today and let our expert team create a breathtaking landscape that will be the envy of the neighborhood. Experience the joy of vibrant blooms and lush greenery that will transform your property into a captivating oasis.