Custom Containers
Containers are an excellent way to bring the beauty of your home or business out into the landscape. They can be used to welcome guests, celebrate the seasons, frame a view or support a style or color scheme. They can be arranged on patios, along walkways or in your garden beds to add volume and drama as the seasons unfold.
Seasonal Displays
Seasonal displays are some of our favorite projects! We can refresh your containers and garden beds with spring, summer, fall, holiday and even winter designs. We love to use cut blooming branches for added drama and will even incorporate your favorite decorations if desired. We also recommend planting fall bulbs for glorious spring blooms. Having a special event? We'd love to help!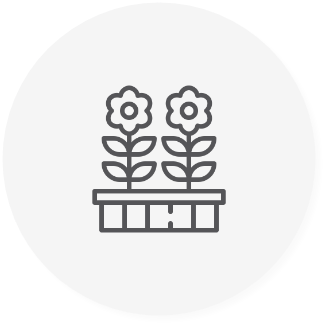 Garden Design, Installation & Maintenance
We work closely with our customers to create mixed borders, perennial beds, pollinator gardens, xeriscaping and foundation plantings. We will help you to define your vision, budget and choose the plants best suited to your location, personal tastes and maintenance needs.
Garden Design, Installation & Maintenance
How We Improve Your Space
We specialize in seasonal containers, garden design, installation and maintenance as well as proper pruning and grooming of your plantings to keep your landscape always looking its best.
Leslie Richardson, Seasonal Gardens & Containers Coordinator
Tell us your vision and we'll bring it to life!  Our experienced and talented team is here to do the work for you.  Let us do the heavy lifting, purchasing, planting and irrigation.  All of our services are customizable, just tell us what you need.
When it comes to container garden maintenance, there's no more essential chore than watering.  You need to make sure you're providing your plants with the best possible environment. That means keeping them well-watered and cozy, which in turn will help guarantee their success!