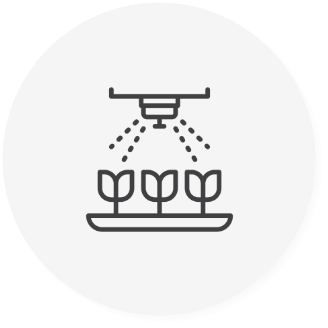 Irrigation Systems
Your irrigation system is important to the health and growth of your plants. If you're noticing that it's not operating correctly, or if water bills are increasing due to inefficient usage – we can help!
Waterwise Irrigation Services
The Moana Nursery irrigation team specializes in the following:
Spring start up maintenance and repairs
Fall shut down of your irrigation system
Installation and adjustments for your sprinklers, rotors, nozzle calibration, drip of all kinds, to gain water-wise efficiencies
Water audits and optimization
Controllers including ET (evapotranspiration) and other Wi-Fi devices
Maintaining pondless water features and cleaning
Irrigation backflow inspection, testing and certification
Advantages of Drip Irrigation
It is easy and economical to install.
Water is applied only to the plant resulting in fewer weeds.
Plants are less susceptible to disease.
There is no drift on walkways or hard paved surfaces.
It promotes healthier plant growth.
Applicable to many diverse landscapes.
Low operational costs.
Reduces risk of soil erosion.