Visit Moana Nursery and step into a world of refined craftsmanship and discover an exceptional collection of high-end pottery, captivating garden art, and enchanting gift items and home décor. Our store is a treasure trove for those with a discerning eye and an appreciation for the finer things in life.
We curate an exquisite selection of pottery, crafted by skilled artisans who infuse their passion and expertise into each piece. From elegant indoor pots to outdoor gardening containers, our pottery collection exudes elegance and artistry. The rich textures, intricate patterns, and vibrant colors will add a touch of opulence to any living space.
Discovering the perfect gift or home décor item is effortless at Moana Nursery. Our carefully curated selection showcases a diverse range of handpicked treasures, from luxurious candles & self-care items to tabletop fountains and exquisite wall art. Whether you're seeking a unique gift for a loved one or a statement piece to enhance your own living space, our gift and home décor collection offers an abundance of choices that harmonize elegance and functionality.
At our store, we prioritize quality and craftsmanship, ensuring that each item embodies the essence of luxury and sophistication. We collaborate with renowned artists and designers from around the world, hand-selecting pieces that seamlessly blend artistry, innovation, and exceptional materials.
Extensive Array of Pottery
We pride ourselves on offering a diverse and captivating selection of pottery to cater to every taste and preference, including:
Hi-fired glazed indoor and outdoor pottery
A global selection of Terra Cotta pottery
Black Clay Pottery
Light Weight Fiber Pottery
Natural Stone Pottery
Hand Painted Spanish and Talavera Pottery
Specialty Pots for Strawberries, Orchids, African Violets, etc.
Novelty Pots
Large Garden Containers
Our commitment to quality ensures that each piece of pottery in our selection is carefully sourced and crafted with meticulous attention to detail. Whether you're looking to adorn your outdoor spaces, elevate your interior decor, or find a standout piece that reflects your individual style, our diverse range of pottery options is designed to inspire and captivate. Visit our store in-person to explore the best selection of pottery and find the perfect pieces to enhance your living spaces.
Protect your pottery!  Proper care and maintenance will ensure your pots stay bold & beautiful for years to come.
About Our Gift & Decor Boutique
Indulge in the world of luxury and refinement with our exceptional collection of high-end gifts and décor. Each carefully curated piece exudes elegance, craftsmanship, and a timeless aesthetic. Explore our selection and discover the perfect item to elevate your living spaces or present as a cherished gift. Here is a glimpse into our high-end gift and décor offerings, including:
Garden gifts and décor to help extend your indoor sanctuary to the gardens edge.
An adored selection of candles, table top, plush, home décor, and accessories.
A wide array of solar décor and string lights for nighttime garden enhancement.
Whimsical garden stakes and spinners, statuary, trellises and outdoor wall décor.
Our high-end gift and decor selection embodies a commitment to quality, artistry, and sophistication. Each item is thoughtfully chosen to inspire and delight, reflecting the utmost attention to detail and craftsmanship. Whether you are searching for the perfect gift or looking to add a touch of luxury to your own living spaces, our collection offers a haven of refinement and elegance.
Seasonal & Holiday Headquarters
Celebrate the joy and magic of all 4 seasons with our delightful collection of seasonal and holiday gift and décor items. From the warmth of winter to the vibrant blooms of spring, and the sun-kissed days of summer to the cozy hues of autumn, our selection captures the essence of each season. Whether you're seeking a gift or looking to transform your space with seasonal charm, we have a range of items to suit every occasion.
Our seasonal and holiday gift and decor items are carefully curated to evoke the spirit and beauty of each occasion. Whether you're seeking to transform your living spaces or searching for the perfect gift, our collection offers a range of options to suit your style and preferences.
Garden Gift Shop Locations
Moana Lane
(Reno)
1100 W. Moana Lane
Reno, NV 89509
(775) 825-0600
S. Virginia Street
(South Reno)
11301 S. Virginia Street
South Reno, NV 89511
(775) 853-1319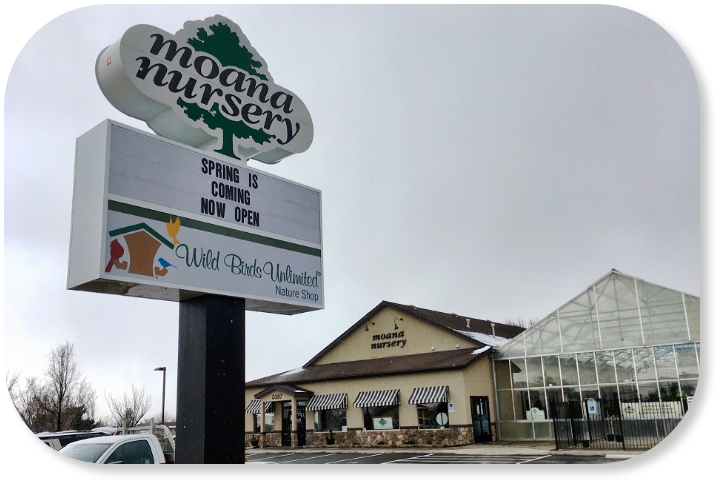 Pyramid Way
(Sparks)
3397 Pyramid Way
Sparks, NV 89431
(775) 425-4300
Some of Our Amazing Products