Escape to Moana Nursery and be inspired by our extensive array of distinct pottery and garden containers that will suit any design preference or shop our boutiques for décor, garden art, outdoor living essentials, and unique gifts!! For a taste of our selection, scroll on … items change frequently, so your best bet is to visit us in person.
Extensive Array of Pottery
We pride ourselves in offering vast pottery selections at all 3 of our locations.  
Hi-fired glazed indoor and outdoor pottery
A global selection of Terra Cotta pottery
Black Clay Pottery
Light Weight Fiber Pottery
Natural Stone Pottery
Hand Painted Spanish and Talavera Pottery
About Our Gift & Decor Boutique
With fresh & new items monthly, our gift and décor boutique is a revolving trove of treasures.
Garden gifts and décor to help extend your indoor sanctuary to the gardens edge.
An adored selection of candles, table top, plush, home décor, and accessories.
A wide array of solar décor and string lights for nighttime garden enhancement.
Whimsical garden stakes and spinners, statuary, trellises and outdoor wall décor.
Seasonal & Holiday Headquarters
There's always a season or holiday to celebrate and Moana Nursery assures inspiration at every turn. We take exceptional pride in the Fall and Christmas season, in having some of the most unique and broadest selections in town. Starting in September, Moana transcends from festival fall into a magical, holiday wonderland—touching on a myriad of holiday themes.
Garden Gift Shop Locations
Moana Lane
(Reno)
1100 W. Moana Lane
Reno, NV 89509
(775) 825-0600
S. Virginia Street
(South Reno)
11301 S. Virginia Street
South Reno, NV 89511
(775) 853-1319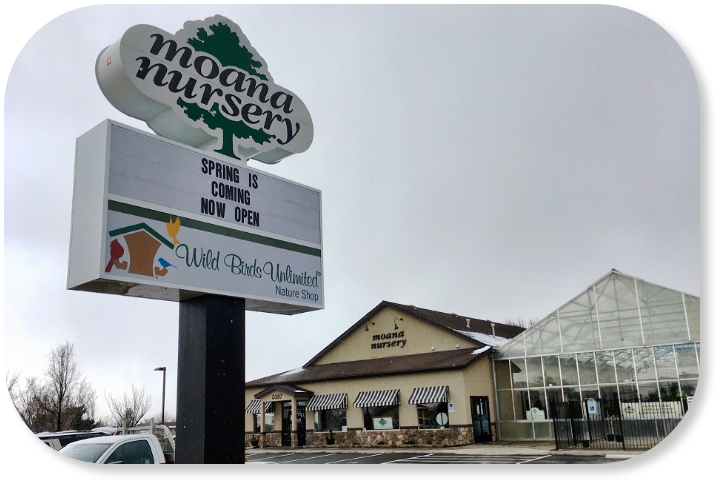 Pyramid Way
(Sparks)
3397 Pyramid Way
Sparks, NV 89431
(775) 425-4300
Some of Our Amazing Products