Moana Nursery Interior Plant Services Team specializes in creating vibrant and refreshing indoor environments through the installation and maintenance of a wide range of indoor plants and services. Our mission is to bring the beauty and benefits of nature indoors, enhancing the well-being and productivity of individuals in commercial and residential spaces alike.
Designing breathtaking indoor landscapes is at the heart of what we do. Our team of skilled horticulturists and experienced designers work closely with clients to understand their vision, space, and requirements. We curate and implement unique green solutions that complement the existing aesthetics and create an inviting atmosphere.
Are you ready to elevate your indoor space with the power of nature? Schedule a consultation with our Interior Plant Services Team today, and let us bring the beauty of the outdoors to your doorstep. Experience the transformation that only living plants can offer and create an inspiring environment that leaves a lasting impression.
Design
Installation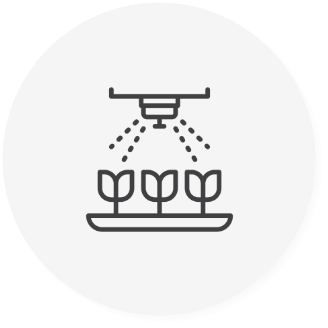 Maintenance
One of our specialties is the installation and maintenance of living plant walls, also known as vertical gardens. These captivating green installations are not only visually stunning but also offer numerous benefits, including improved air quality, noise reduction, and a sense of tranquility. Our team carefully selects and arranges an assortment of plant species, creating a living masterpiece that adds an unforgettable touch of nature to any indoor space.
In addition to living plant walls, we offer a vast selection of indoor plant containers and arrangements. Our collection ranges from elegant and modern planters to whimsical and artistic creations, ensuring that every space can be uniquely transformed. We work with a variety of plant species, carefully choosing plants that thrive indoors, considering factors such as lighting, humidity, and maintenance requirements.
We understand that maintaining indoor plants requires expertise, time, and dedicated care. That's why we provide comprehensive maintenance services tailored to each client's specific needs. Our professional team regularly visits your premises, taking care of watering, fertilization, pruning, and pest control. We also offer ongoing plant health assessments to ensure your green oasis remains vibrant and healthy throughout the year.
With Moana Nursery, you can trust that your indoor plant installations and services are in capable hands. Our commitment to exceptional quality, customer satisfaction, and environmental responsibility sets us apart. We strive to use sustainable practices in our operations, including water conservation and responsible sourcing of plants.